Post objavio
Vladimir Kos
, direktor kompanije IP WAY
Fiksni protok, kvalitet slike i broj frejmova
Podešavanje fiksnog protoka na kameri (CBR) omogućiće nam predvidiv i nepromenljiv propusni opseg koji će biti korišćen, ali će takođe ograničiti i kvalitet slike. Za najbolji kvalitet slike najbolje je uvek koristiti varijabilni protok (VBR) a konstantni protok (CBR) koristiti samo kada je to stvarno neophodno.
Prilikom konfiguracije Axis kamera koje koriste H.264 moguće je podesiti maksimalni protok koji će kamera koristiti,ali je bitno i kako to radi, radi dobijanja najboljih rezulatata.

U meniju 'Video Stream Settings' protok može biti podešen na varijabilni (VBR) ili konstantni (CBR). VBR će podešavati protok shodno kompleksnosti scene (slike) i na taj način koristiti dosta mrežnog opsega kada je slika sa puno aktivnosti a jako malo propusnog opsega kada nema puno promena u slici.

Kada koristite CBR možete podesiti fiksni ciljni protok, što će vam omogućiti da je moguće predvideti maksimalno opterećenje mreže koje se neće menjati šta god se dešavalo na slici. S obzirom da će se protok uglavnom povećavati kada dođe do povećanja aktivnosti u slici, ali to nije moguće preko neke granice kada je CBR izabran, to će negativno uticati na kvalitet i broj slika. U cilju neke kompezacije ovakve situacije moguće je izvršiti prioritizaciju ili broja slika (frame rate) ili kvaliteta slike kada god se protok poveća iznad granične vrednosti. Ukoliko ne podesite prioritet to znači da će ograničenje protoka (CBR) podjednako uticati i na broj slika i na sam kvalitet slika.

CBR zaista nije nešto štpo se preporučuje za korišćenje posebno uzimajući u obzir da veliki broj drugih proizvođača imaju implentaciju CBR-a na način da kamera stvarno troši podešeni protok SVO vreme (to postižu čak slanjem dodatnih paketa kako bi protok bio konstantan).

Kod AXIS kamera korišćenjem CBR-a se u stvari postiže da se ograniče neke vršne vrednosti koje VBR generiše što se vidi i na slici.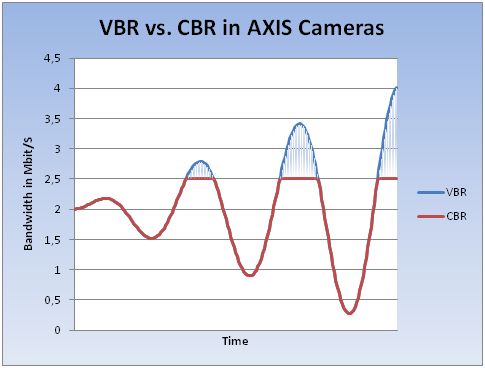 Maksimalna vrednost za CBR koju je moguće podesiti na Axis kameri je 50000 kbit/s.
I na kraju... Preporuka je korišćenje CBR-a samo kada je to zaista neophodno. U većini slučajeva najbolji kvalitet je potreban onda kada se nešto bitno desi/dešava - a tada je i potreban najveći mrežni protok.